If you think asbestos is old news for apartment owners and managers, think again. It is very common, and easy to manage properly, but the regulators are as dangerous as ever. They are enforcing federal regulations, so it is more appropriate to think of them as like the IRS than like a traffic cop writing a ticket, or a city inspector. Consider these examples:
In May a property manager client called my company because tenants in a unit where a small repair had been done were complaining about asbestos. A small area of ceiling texture had been disturbed. The tenants had the acoustic ceiling texture and drywall joint compound in their unit sampled and both contain asbestos. When we arrived, the tenants pointed to every little bit of white paint dust and such on the plastic laminate flooring in the unit. They had also read various things about asbestos on the Internet. The management company is now having their maintenance and management people trained to properly deal with asbestos, something every owner or manager who works on apartment buildings should do.
My company recently received a call from an apartment owner after a South Coast Air Quality Management District (SCAQMD) inspector found illegal asbestos disturbances in an 11-unit apartment building undergoing renovation. We had previously performed lead-based paint inspections of his buildings. The workers had scraped asbestos ceiling texture throughout the building and ripped up sheet vinyl flooring and vinyl floor tile, dumping the waste in the regular trash bin. Worse yet, the owner had hired a "contractor" who was unlicensed, making the workers his employees. We had to explain to the owner, who had recently bought four buildings on the street, that the penalties could include hundreds of thousands of dollars of fines, the expenses to excavate a portion of the landfill, since much of the waste had already been hauled by the trash company, time in federal prison, and lawsuits by the workers. We suggested that he find some very good attorneys and hope for leniency.
Last year we received a call from a management company after a calamity at an apartment building had disturbed ceilings and walls in some units. We found that the ceiling materials in the units did contain asbestos. One of the concerned tenants had already called the South Coast Air Quality Management District. Unfortunately, the owner and manager had not obtained an asbestos survey of the building, and had not had their people properly trained, so they moved the contaminated belongings of one pregnant tenant to a different unit, spreading the contamination. She was very concerned, and was also scouring the Internet for information on asbestos. The icing on the cake in this calamity following the initial calamity was that the insurance company for the contractor who had caused the calamity did not want to pay, as their policy, as with most, excluded asbestos, and the insurance company for the owner also did not want to pay for much of the clean-up project costs.
Charles Yi, who owned a 204 unit apartment building, was sentenced to federal prison for four years for failure to use proper procedures or trained personnel to scrape asbestos ceiling texture, and lost his appeals. He apparently obtained bids for proper removal of the ceiling texture, did not want to spend what it took to do it properly, so hired unlicensed and untrained workers to scrape the material, contaminating the building and neighboring properties. He went from wealthy to broke and in federal prison. I mentioned this example at the mold, asbestos, and lead seminar I presented at AAGLA headquarters and one woman though I had made it up! I referred her to the Internet, where the details are public information.
My company inspected a large factory complex with an office building loaded with asbestos. Not long thereafter, a reporter from LA Weekly called to interview me and I learned that the entire complex had simply disappeared, without even a city demolition permit! We had inspected other properties for this major regional property owner, and they had hired licensed asbestos abatement contractors. I understand that two senior executives of the company went to federal prison. How were they caught? Apparently, people working nearby wondered about what was happening and called the regulators.
So much for saving a relatively few dollars.
Why don't you know of more owners and mangers who have been caught violating asbestos laws and regulations? The answer is another question: Do you think owners and mangers who are caught will want to talk about it, or want to keep quiet?
The dangers of asbestos are very real, and have been known for a century (see the book Magic Mineral To Killer Dust). It is reported that people working with asbestos in the 1930s had problems buying life insurance. Thus, it was no surprise that asbestos was one of the first things the United States Environmental Protection Agency (EPA), now a cabinet department, started regulating in the early 1970s. The same with the Occupational Safety and Health Administration in the Department of Labor. In southern California, EPA has an arrangement with the SCAQMD to regulate asbestos. Cal-OSHA also regulates asbestos. Some cities may ask about asbestos before issuing building permits, but they do not regulate it.
Apartment owners, managers, and contractors have to assume that any materials which might contain asbestos do contain it until a California Certified Asbestos Consultant (the certification started in 1992) has performed a proper asbestos survey. Many people think of acoustic ceiling texture or insulation on hot water and steam heating system piping when asbestos is mentioned, but those are just two of the many common building materials made with asbestos. In general, anything which is not wood, metal, plastic, or glass could contain asbestos. The most common materials are drywall joint compound, acoustic ceiling texture, sheet vinyl flooring, heating and air conditioning ducts, exterior stucco, vinyl floor tile, mastics (adhesives) for floor tile, mirrors, and ceiling tile, window putty, vents or flues, and roofing. Numerous less common materials may also contain asbestos.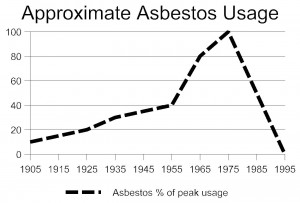 If any asbestos containing materials are found, a simple asbestos management plan will prevent improper disturbances and track the materials which contain asbestos. There is no need to remove materials which are in good condition and which do not need to be disturbed. Only properly licensed, equipped, and ensured contractors or employees should be allowed to disturb or remove materials which contain asbestos. People who work near or contact asbestos need simple two hour awareness training. Those who perform small disturbances incidental to performing other work need 16 hour training, and proper equipment and supplies. Purposeful removal requires hiring a licenses asbestos abatement contractor.
Here is a condensed version of this article published in Apartment Age:
MCSI July 2014 Apartment Age Asbestos article