Phase I & II
Environmental Site Assessments
We enjoy helping you stay out of trouble and conserve your time and money. We have successfully done so at thousands of properties, and appreciate the opportunity to assist you.
We conduct Phase I Environmental Site Assessments (Phase I for short) to determine the potential for pollution or contamination of soil and groundwater on properties you or your clients may be selling, buying, or financing. Unfortunately, the US EPA's All Appropriate Inquiries regulations do not require that the inspection of properties be done by Environmental Professionals (EP), but a proper Phase I is necessary to avoid liability for contamination caused by others, so all of our site inspections are performed by senior experienced EPs. Other companies may quote lower prices than us, but assign junior staff to Phase I projects. Other companies may quote far higher prices, yet send junior staff to Phase I projects. A quality Phase I is necessary to avoid liability for toxic and hazardous materials exposures during excavation work, and potentially devastating expenses for remediation of pollution or contamination caused by others.
The buyer of the industrial property in the photo below was upset when he learned, after taking title to the property, that the large multi-national company he had hired to perform a Phase I had missed the clarifier in the photo, even though it is next to the driveway, and is shown in the plumbing permits on file at the city. The large multi-national company's junior staff also missed a groundwater contamination plume originating across the street, and their faulty asbestos survey missed asbestos throughout the offices in the building.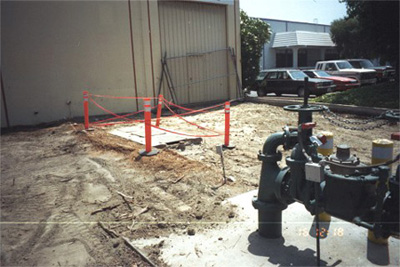 Phase II Environmental Site Assessments or Investigations involve sampling of soil, soil vapor, and/or groundwater, and may involvement placement of monitoring wells. Our experienced consultants perform this work quickly and efficiently, so that timely decisions may be made by our clients.