Lead
We enjoy helping you stay out of trouble and conserve your time and money. We have successfully done so at thousands of properties, and appreciate the opportunity to assist you.
Lead paint was once considered to be the best paint, so was widely used. Lead was also common in ceramic tile glazes, as an additive to plastics used in items such as mini-blinds, as the external covering on wires and cables. Metallic lead was used for roof penetration flashing. Lead is still legal in industrial paints.
Unfortunately, exposures to lead can cause neurological problems and other diseases, so there are numerous laws and regulations designed to prevent or limit lead exposures, and many potential liabilities. The newest law is a US EPA regulation affecting all trades working on pre-1978 housing, schools, and even commercial buildings visited regularly by the same child, under 6 years of age, at least 60 hours per year.
Good News: Half of the buildings built 1960 to 1978 have no lead-based paint, the other half have very little! The same with some built back to the middle 1950s. More good news: Lead-based paint is not nearly everywhere in older buildings.
We can help you IMPROVE YOUR CASH FLOW by
» Preventing contractors (all trades) from charging for unnecessary procedures
» Eliminating unnecessary spending for training, equipment, and procedures for your staff
» Allowing you to market certified lead-based paint free units (we issue certificates suitable for framing)
Contact us for quick on-the-spot test results with absolutely no damage at a low one time cost.
We utilize state of the art Thermo Niton X-Ray Fluorescence (XRF) equipment and other current technology to perform accurate lead-based paint and ceramic tile inspections quickly and efficiently, with absolutely no damage, not even a mark, and minimal disturbance of tenants.
See the News section for some of our articles and presentations on lead.

You do not need to waste your time and money finding and retaining multiple consultants to deal with lead other issues, as provide all of the other related environmental consulting services you may need.
When people think of lead paint, they often think of the kind of flaking and peeling paint shown in these photographs, but lead paint with no flaking or peeling can also be a serious problem. Lead was added to oil-based paints, and those paints produce a fine dust as they deteriorate. That fine dust is the source of many exposures to lead, especially exposures of infants and toddlers.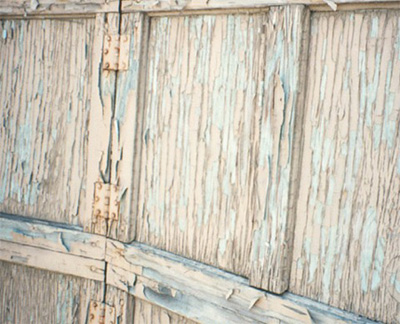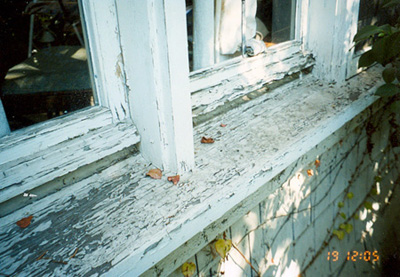 Having expensive XRF test equipment is one thing, and knowing how to use it to properly identify lead paint another. We are careful to checking for layered materials, so that your liability for inadvertent exposures or contamination is reduced, and so that you avoid change orders and delays during construction work.
Lead Painted Plaster Below Drywall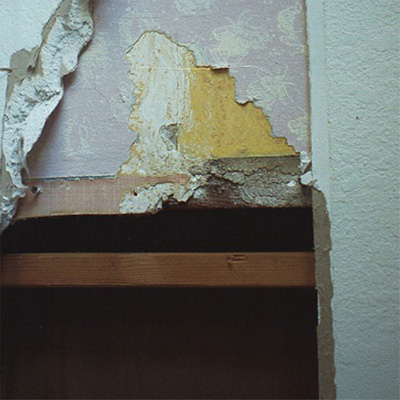 Lead-Painted Wood Siding Below Stucco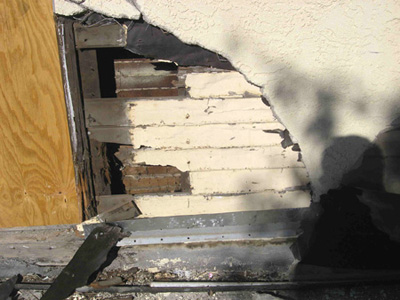 Lead-painted stucco below asbestos-cement shingles (a competitor did not realize that the XRF machine "reads" through thin materials such as the asbestos-cement shingles, so claimed that the lead paint was on them, missing the lead paint on the stucco, a significant issue for demolition of six large warehouses).